Guide to Cheongsam
What are Cheongsam Chinese Dresses?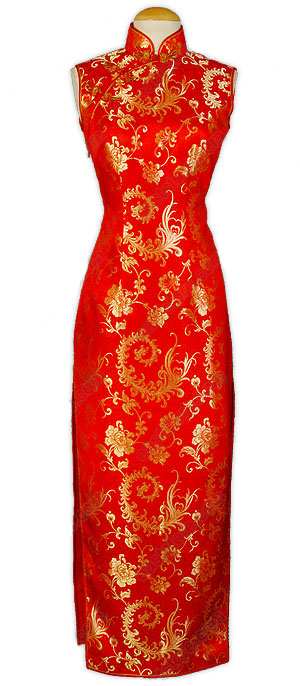 The cheongsam (or qipao) is the classic dress of China, reflecting the traditional elegance and authentic look of the East. The name literally means "long dress" in the local dialect of Canton, the South Chinese province where the West first came exposed to the cheongsam in the early 20th century. However the cheongsam dress dates back to at least the 17th century, when it was adopted by the Manchu emperors as the standard dress for all subjects under their kingdom. Then called Qipao, meaning banner, the cheongsam was worn by both men and women for its practicality and comfort.
The cheongsam's popularity endured into the 1920's, when new tailored styles, designed to flatter the female figure, appeared in the cities of South China. More revealing, stylish, and sexier than ever before, these new and improved cheongsam stunned the diplomatic circles and elevated the distinctive Chinese dress to the wider world. Now, cheongsam Chinese dresses are universally recognized as an essential addition to any vibrant lady's wardrobe.
Elegantpark offers a huge range of astounding Chinese style cheongsam and qipao dresses at bargain wholesale prices.
Getting the Best Fit
The cheongsam Chinese dress has a number of styles and so is uniquely designed to flatter your body, no matter the shape. The secret is in knowing the right cut of Chinese dress for you, so that flaws are hidden and assets are accentuated. Here's how:
Larger Women: A striking side split in your cheongsam Chinese dress goes a long way in hiding any bulges. Avoid brocade and choose a dress with a single harmonious color for an amazing look.
Shorter Women:Don't make the mistake of going for long cheongsams: a long hem will only emphasize your smaller stature. Avoid boxy cuts with shoulder pads that weigh you down.
Skinny Women:Brocades with heavy silk designs produce a captivating style which also fills out the figure and adds curves to your form.
Top-Heavy Women: Cheongsam separates will bring harmony to your shape. Choose a muted color for the cheongsam top, and avoid big, bold prints.
Bottom-Heavy Women:Choose a straight-cut skirt with side slit to slim down your bottom half. A separate top will tone down any disparity between your upper and lower halves.
Broader Women:The Amazonian look can be softened with elegant fabrics like silk. Avoid shoulder pads for a more svelte and feminine silhouette.
Whatever your shape, add long sleeves to your cheongsam Chinese dress if your upper arms are less firm than they could be.
The traditional high collar of the cheongsam is absolute dynamite on women with a longer neck. However, even with a shorter neck you can find an attractive Chinese dress by opting for a short-collared or even plunging neckline design.
For best results, why not have your own Chinese dress tailor-made for you? At Elegantpark, you can order a beautiful hand-embroidered cheongsam Chinese dress tailored to your individual needs.
Selecting a Style and Motif
Silk, satin, or velour Cheongsam Chinese dresses are versatile enough to tailor a cheongsam Chinese dress in almost any style or color. The patterns, colors, and motifs used on your cheongsam make a unique statement about you, so choose carefully:
Peony The iconic flower of the East, the peony has symbolized prosperity for over 5000 years. Extremely popular in China, choose an exquisitely embroidered peony for your cheongsam to convey a sense of enigmatic mystery.
Lotus A sacred flower in Tibet, where it symbolizes purity and holiness, the lotus is a traditional motif for many cheongsam Chinese dresses. A lotus emblem on your own cheongsam emphasizes your beauty and innocence.
Phoenix This noble creature has long been used in China as the motif for ladies of the imperial court. Choose a phoenix design for your cheongsam Chinese dress to create the look of an Oriental princess.
Dragon The motif of the emperor and symbol of supreme power, nothing better represents China than the noble golden dragon. Exhibit your own power and strength with a stunning dragon motif.
How to Wear Your Cheongsam Chinese Dress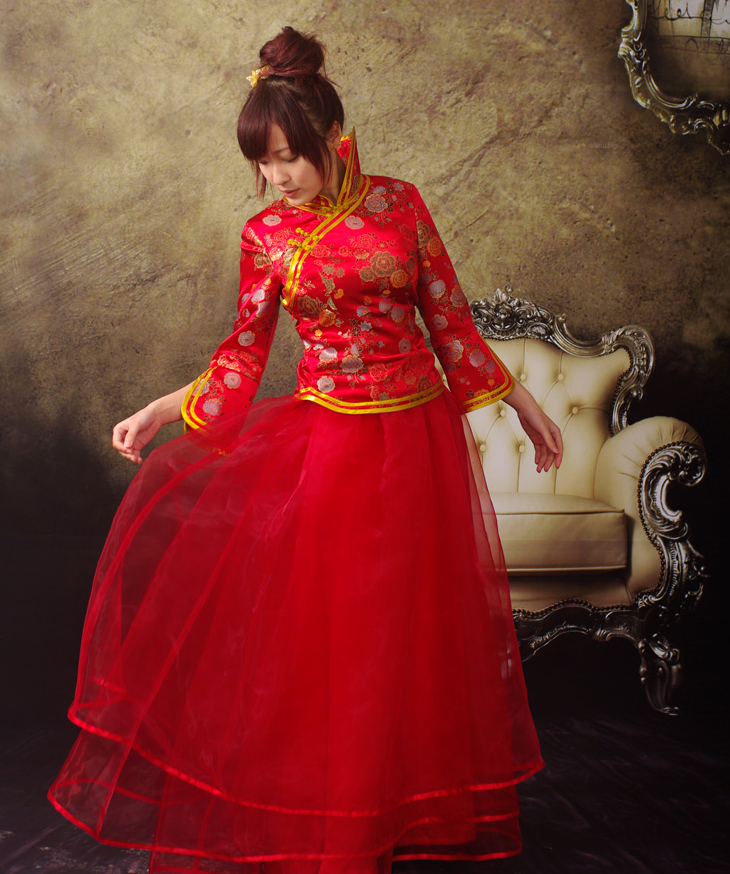 Always consider your whole ensemble when wearing a cheongsam Chinese dress. Hairstyle, jewelry, shoes, and accessories should all be selected to compliment the colors and styles of your dress. Browse our cheongsam and qipao Chinese dresses to see what our own models wear with their outfits for more ideas. Click here.
Daily wear
In summer, choose thin fabrics such as pure cotton, yarn cloth, silk, or poplin, printed with little flowers. In spring and winter, try a man-made fiber or blended cloth like gleaming silk and thinner woolen cloth.
Formal wear
For summer parties, select soft, light, thin, pure silks, which are cool and won't stick to your body. For spring and winter, satin and velour are warmer yet still elegant; crape and spun gold damask make a decorative addition.
Care and Cleaning Tips for Your Cheongsam
The highest quality cheongsam are tailored from fabulous, but sensitive, fabrics, so care should be taken in wearing and laundering your Chinese dress.
Tips on wearing
Avoid stains, especially oils, as they are notoriously difficult to remove. Take care around rough or sharp objects which may damage the fine weave or cause rips. For sleeved varieties of cheongsam Chinese dressed, take care in rolling up sleeves as it may stretch the fabric.
Tips on Laundry
l Always hand-wash or dry clean, with dry cleaning being the most recommended method
l Always dry clean brocade satin; never use water
l Avoid strong laundering detergents which may damage the fabrics
l Wash separately from other items, especially if they contain dyes
l Never use chlorine-based bleaches
l Dry by hanging your Chinese dress in a well ventilated area before storing
l Ironing is fine regardless of fabric, though a cool iron should be used for silks. You can also use a damp cloth between iron and dress to avoid softening of fabric or color distortion.
Storing Your Cheongsam
Chinese dresses should be hung on wide hanger and not folded while storing. Take care around the shoulder area so it is properly supported. Mothballs can be used, but avoid the camphor variety, which can cause yellowing in lighter fabrics.